Beskydy Gliding Cup 2015 › Results › Day 8 › 12.12.2015
Training 1 Training 2 Day 1 Day 2 Day 3 Day 4 Day 5 Day 6 Day 7 Day 8 Overall Results
Racing Task | Final Results | Maximum Points: 738 | Day Factor = 1.0000
| | | | | | | | | | | |
| --- | --- | --- | --- | --- | --- | --- | --- | --- | --- | --- |
| # | | PILOT | CN | RN | PLANE | DISTANCE | TIME | SPEED | PEN | POINTS |
| 1 | | Erik Praznovsky | EP | OM-1974 | ASW27 | 294.96 km | 02:20:38 | 125.8 km/h | 0 | 738 |
| 2 | | Helmut Kuenne | F9 | D-2318 | ASW27 | 294.96 km | 02:21:57 | 124.7 km/h | 0 | 727 |
| 3 | | Oldrich Slavicek | O8 | OK-OLDS | Ventus2 | 294.96 km | 02:24:22 | 122.6 km/h | 0 | 707 |
| 4 | | Zbyszek Tkocz | ZBY | ZBYCH | ASW27 | 294.96 km | 02:25:36 | 121.5 km/h | 0 | 697 |
| 5 | | Valentin Tornavi | 574 | RA-SLY | ASW27 | 294.96 km | 02:26:21 | 120.9 km/h | 0 | 691 |
| 6 | | Slava Raduga | 050 | RA-DUGA | ASW27 | 294.96 km | 02:27:22 | 120.1 km/h | 0 | 683 |
| 7 | | Miodrag Ivanovic | IDM | YU-1039 | ASW27 | 294.96 km | 02:28:27 | 119.2 km/h | 0 | 675 |
| 8 | | Tomas Brotanek | TB | OK-0516 | Ventus2 | 294.96 km | 02:29:15 | 118.6 km/h | 0 | 669 |
| 9 | | Radek Pilar | RP9 | OK-7412 | Ventus2 | 294.96 km | 02:29:50 | 118.1 km/h | 0 | 664 |
| 10 | | Quinten Hermans | REA | OO-QAS | ASW27 | 294.96 km | 02:30:05 | 117.9 km/h | 0 | 663 |
| 11 | | Piotr Raczynski | PIT | SP-2901 | ASW27 | 294.96 km | 02:30:23 | 117.7 km/h | 0 | 660 |
| 12 | | Erwin deBruin | EDB | PH-1969 | ASW27 | 294.96 km | 02:30:45 | 117.4 km/h | 0 | 658 |
| 13 | | Lubos Faitz | LFM | OK-4812 | Ventus2 | 294.96 km | 02:32:15 | 116.2 km/h | 0 | 647 |
| 14 | | Jiri Adam | ADX | OK-0024 | Ventus2 | 294.96 km | 02:32:46 | 115.8 km/h | 0 | 643 |
| 15 | | David Mach | VPD | OK-8145 | ASW27 | 294.96 km | 02:33:20 | 115.4 km/h | 0 | 639 |
| 16 | | Jon Holland | 123 | G-RUSH | ASW27 | 294.96 km | 02:33:54 | 115 km/h | 0 | 635 |
| 17 | | Jiri Nemecek | D32 | OK-6432 | Ventus2 | 294.96 km | 02:34:39 | 114.4 km/h | 0 | 629 |
| 18 | | Aleksey Chernov | AV7 | AIRMAN | ASW27 | 294.96 km | 02:35:17 | 114 km/h | 0 | 625 |
| 19 | | Peter Jan Schoonen | PJS | PH-PJS | ASW27 | 294.96 km | 02:35:27 | 113.8 km/h | 0 | 624 |
| 20 | | Egon Jorgensen | X5 | OY-XKP | ASW27 | 294.96 km | 02:36:24 | 113.2 km/h | 1 | 616 |
| 21 | | Milos Koch | MK | OK-1823 | ASW27 | 294.96 km | 02:37:00 | 112.7 km/h | 0 | 613 |
| 22 | | Hans Nyc | JN | OK-6200 | ASW27 | 294.96 km | 02:37:26 | 112.4 km/h | 0 | 610 |
| 23 | | Dmitry Andreyev | D2A | - | ASW27 | 294.96 km | 02:39:20 | 111.1 km/h | 0 | 597 |
| 24 | | Michel Valade | VAM | F-CEVI | ASW27 | 294.96 km | 02:39:31 | 110.9 km/h | 0 | 596 |
| 25 | | Horst Jahnke | DHJ | D-2056 | ASW27 | 294.96 km | 02:42:11 | 109.1 km/h | 0 | 579 |
| 26 | | Mathias Muench | MMU | D-2197 | ASW27 | 294.96 km | 02:43:39 | 108.1 km/h | 0 | 569 |
| 27 | | Leszek Tomasik | LTO | SP-2188 | Ventus2 | 294.96 km | 02:43:51 | 108 km/h | 1 | 567 |
| 28 | | Jan Oorthuijsen | WW | PH-722 | ASW27 | 294.96 km | 02:44:43 | 107.4 km/h | 0 | 563 |
| 29 | | Jiri Holub | JHO | OK-4408 | ASW27 | 294.96 km | 02:46:17 | 106.4 km/h | 0 | 553 |
| 30 | | Silvio Kulk | SK2 | D-2108 | ASW27 | 294.96 km | 02:49:07 | 104.7 km/h | 0 | 536 |
| 31 | | Alain Zutter | AZZ | F-CGAZ | ASW27 | 294.96 km | 02:49:36 | 104.3 km/h | 0 | 533 |
| 32 | | Jan Svetlik | JS6 | ARADAC | ASW27 | 294.96 km | 02:49:43 | 104.3 km/h | 0 | 533 |
| 33 | | Josef Spirik | S50 | SPIRA | Ventus2 | 294.96 km | 02:49:47 | 104.2 km/h | 0 | 532 |
| 34 | | Pete Allen | PWA | G-1466 | ASW27 | 294.96 km | 02:55:53 | 100.6 km/h | 0 | 498 |
| 35 | | Rudolf Kalousek | R1K | OK-7777 | Ventus2 | 294.96 km | 02:58:28 | 99.2 km/h | 0 | 484 |
| 36 | | Paca84 Laurent | LM1 | PACA84 | ASW27 | 294.96 km | 03:04:34 | 95.9 km/h | 0 | 453 |
| 37 | | Miro Kucera | MK7 | OM-2507 | Ventus2 | 294.96 km | 03:04:36 | 95.9 km/h | 0 | 452 |
| 38 | | Jaroslav VAlouch | JV1 | OK-1279 | ASW27 | 294.96 km | 03:11:59 | 92.2 km/h | 0 | 417 |
| 39 | | Pavel Kostkan | PK | OK-0906 | LS6 | 294.96 km | 04:01:05 | 73.4 km/h | 0 | 338 |
| 40 | | Mime Eric | J51 | ACT40 | ASW27 | 294.96 km | 02:43:40 | 108.1 km/h | 233 | 336 |
| 41 | | Pavel Snajdr | ST | OK-PS38 | ASW27 | 138.45 km | | | 0 | 159 |
| 42 | | Martin Dvorak | CCC | OK-9252 | ASW27 | 119.17 km | | | 0 | 137 |
| 43 | | Soenke Neumann | SN | D-0815 | ASW27 | 116.76 km | | | 101 | 33 |
| 44 | | Marcin Martyna | MRM | SP-2772 | ASW27 | 243.3 km | | | 0 | 0 |
| 45 | | Alexander Novikov | AVN | UA-AVN | ASW27 | 174 km | | | 0 | 0 |
| 46 | | Sergio Chausov | SVC | UR-BEAR | Ventus2 | 173.9 km | | | 0 | 0 |
| 47 | | Eman Sadik | EMA | OK-1940 | ASW27 | 176.18 km | | | 0 | 0 |
| 48 | | Kato Kvitne | GUF | LN-GUF | Ventus2 | 0 km | | | 0 | 0 |

Download IGC files (all pilots in one ZIP file) | Detailed results (mCR, mIAS, Detour%...)
Briefing › Day 8 › 12.12.2015 › 20:00 CET › Saturday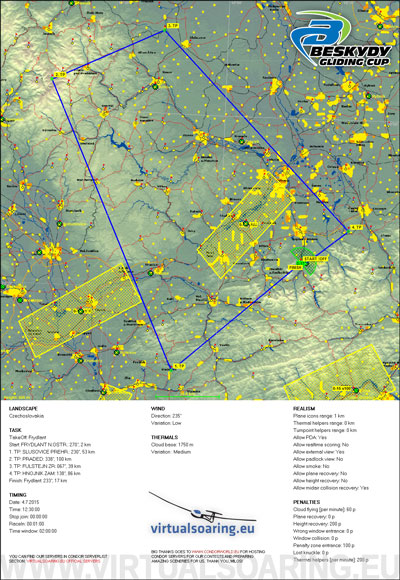 Server:Beskydy Cup 2015
Password:
Date:12.12.2015
Time:20:00 CET (19:00 UTC)
Join time:30 min.
---
Landscape:Czechoslovakia [3.0]
Plane class:15-meter Class
Task type:Racing Task
Race-in time:1 min.
Time window:120 min.
Start time:12:30:00
Condor date:04.07.2015
Start altitude:max. 1700 m QNH
---
TakeOff:Frydlant
Start:FRYDLANT N.OSTR.
1. TP:SLUSOVICE PREHR.
2. TP:PRADED
3. TP:FULSTEJN ZR
4. TP:HNOJNIK ZAM
Finish:Frydlant
Distance:295 km
---
Cloudflying not allowed! Attention: some penalty zones (CTR/TMA) are active, please watch your PDA all the time! Circeling in the direction of climb is determined by the first glider in thermal. If you have doubts about the circeling direction, ask in the chat. Please FLY SAFE, good luck to all pilots.
---

Download Flightplan (FPL file)
---
comments powered by

Disqus